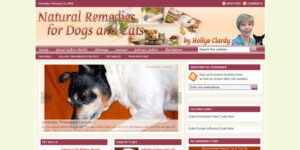 I have used Marj's services twice now and talked with her on several occasions. Marj is very knowledgeable on how to build a website and upload information or plug ins to your website. Her service is excellent and she is very fast and efficient. She truly is a delight to work with and knows how to "fix about anything" my website needs. Hooray! That is not my strength!
Get in touch with her if you have any needs for your website. She is certainly very capable and delighted to do the job for you!!! Her prices are very reasonable as well. She delivers plenty for the amount she charges.
If you are lucky, she might even sing for you! She has a beautiful voice!!!
Sincerely,
Hollye Clardy
http://naturalremedies4dogs.com