Marj Wyatt has worked on 3 WordPress site projects for me. She has been great at taking my ideas (that weren't always so organized) and turning them into the sites that fit what I wanted and needed.
Marj has a lot of knowledge about WordPress, themes and plug ins and when she doesn't have an immediate solution for my website questions, she does the research and comes back with a solution every time.
Along the way, Marj has also done a great job of educating me how to maintain my WordPress sites and make some changes on my own. And she has taught me about some cool online tools and SEO tactics as well.
If you are looking for a knowledgable and friendly WordPress expert, who offers her service at a reasonable price, I recommend Marj Wyatt of VirtuallyMarj.com.
Nita Gill
VegetableFruitCarving.com
VegetableFruitCarving.com Blog
VegetableFruitCarving.com Members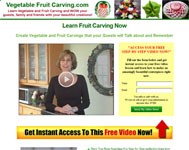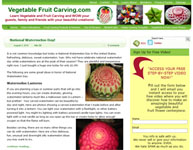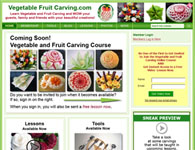 WordPress Website Design Overview
Nita Gill and I met at the Kennedy Glazer San Diego Chapter meeting in late October, 2009. She approached me with interest in learning more about my services and style. At that time, she was not ready to begin her project but, when she had completed the marketing plan, we got to work.
The first project was to help her with a wordpress website design for her new blog. I helped her learn the WordPress ropes, and how to optimize her posts for better SEO.
Nita returned a couple months later with a larger project, which was to migrate her static sales page to a WordPress Website and create a membership site for her products.
Perhaps the biggest technical challenge with the mid-year project was determining the best method to use to serve up videos to her members. We worked together to determine the best method of video production and what players and plugins to use on her site that would give her control over poster images and player control styles.
We used the Wishlist Member Plugin to secure her content. I assisted Nita with determining an overall architecture for her site and how to name the categories for search engine optimization.
The major contribution, aside from normal coaching that goes along with every project, was to educate Nita in the use of her wordpress software. To allow her to become self-sufficient, I created a dozen specialized training videos for her future reference.
Have a look at her sites. Not only are they well designed and functional, she has an awesome product and is a skilled vegetable and fruit carver. Her creations are utterly beautiful!