I want to comment on the re-design you did for my website. Everyone who has seen it says it is much more attractive than my previous site.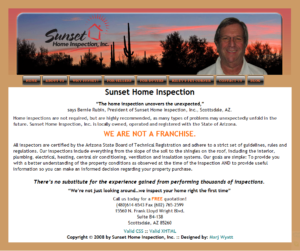 But that's only part of the story. There are a lot of website designers, but working with you has a distinct advantage for me. I know you have had a business exposure in sales. That's important to me because you discuss business issues rather than just concentrating on a design. You ask for the information first and then build a website around that information. And because you have a knowledge of sales, you know what questions to ask.
I would say that is a very effective way to produce website results, rather than just a website design. I'm like a "one stop" kind of person. I had no idea you had so much extensive knowledge in website  maintenance. It's the maintenance issue that becomes so important.
Your ability to use search engine optimization is crucial to have people visiting the web site. And the same holds true even more for the blog link you created on my site. Your methods definitely drive traffic to the site.
And with all our conversations, you have insisted I write valuable content for visitors. That's a challenge for me because it forces me to ask questions that a typical person would ask when they begin a search. You have really increased my internet visibility. I would not hesitate, not even for a nanosecond, to recommend your talents to others.
Thank you,
Bernie Rubin, President
Sunset Home Inspection, Inc., Scottsdale, AZ